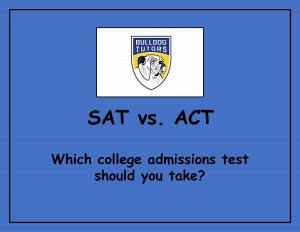 The SAT vs. ACT, "that is the question."
Summoning the opening line of the famous soliloquy from Shakespeare's "Hamlet" seems appropriate. It feels like deciding which college admissions test to take has "to be or not to be" importance for students and families hoping to secure an acceptance letter from a top college or university.
Madison Masters routinely gets the SAT vs. ACT question in her role as Lead Academic Coordinator for Bulldog Tutors, especially as the next test dates approach for the SAT, Oct. 5 and Nov. 2, and ACT, Sept. 14 and Oct. 26.
"A diagnostic should be the first thing you do," Madison says of Bulldog Tutors' assessment that helps her guide students toward the best test for them and provide expert prep for one or both tests.
Madison works with students to identify their strengths and weaknesses and assess how they align with the format of each test to determine which test is likely to result in a higher score.
The SAT and ACT have similarities and important differences. Below, Madison breaks down some of the key issues she addresses in detail with students engaged in private test prep tutoring, and those prepping at Bulldog Tutors in groups as part of structured classes.
SAT vs. ACT: Which Test Do Schools Like Better?
Colleges essentially have no preference. They use the tests to predict the likelihood of a student succeeding in a freshman year math, science or English courses.
Because the SAT has undergone changes, college admissions officers don't have the sufficient information to judge how well SAT scores indicate students' success in college.
As a result, they translate SAT scores into ACT scores and use those numbers for making judgments because they have a solid historical understanding of how ACT scores equate to the potential for success in college.
If you're a middle of the road test-taker, try them both.
SAT vs. ACT: The Basics on Each Test
Here's the scoop on the SAT from the College Board website: The SAT is broken up into three sections consisting of four tests and an optional fourth section, the SAT Essay. The total time for the SAT is 180 minutes, not including breaks, and the SAT Essay is 50 minutes.
Reading: 65-minute section with 52 questions (75 seconds per question)
Writing and Language: 35-minute section with 44 questions (about 48 seconds per question)
Math – No Calculator: 25-minute section with 20 questions (75 seconds per question)
Math – Calculator: 55-minute section with 38 questions (about 87 seconds per question)
Essay (optional): 50 minutes, one essay
That timeframe includes several breaks.
According to the ACT website, the test takes 3 hours and 15 minutes, plus 40 minutes for the optional essay. The components are:
ACT mathematics test (60 items, 60 minutes
ACT reading test (40 items, 35 minutes)
ACT science test (40 items, 35 minutes)
ACT English test (75 items, 45 minutes)
ACT writing test (optional; 1 prompt, 40 minutes)
Here's the part that may ultimately matter most to students: The ACT website says the test is "[d]esigned to measure academic achievement in English, mathematics, reading, and science," while it says the SAT has a "[c]ontinued emphasis on reasoning" with a "[g]reater emphasis on the meaning of words in extended contexts and on how word choice shapes meaning, tone, and impact."
SAT vs. ACT: The Scores
The highest score on the SAT is 1600, and the lowest is 400. Scores on each section range from 200 to 800.
According to the College Board's 2018 SAT Suite of Assessments Annual Report, the mean total SAT score was 1068 nationwide for 2018 graduates who took the test in high school.
Scores on each section of the ACT range from 1 to 36, the average of which is the composite score.
The average composite ACT score in Connecticut in 2018 was 25.6, compared to a nationwide average composite score of 20.8.
For both tests, the scores are based on the total number of correct answers.
Let's understand what those scores mean.
For the SAT:
If your score is below 1000, you may have difficulty being accepted by any college or university; you need to bring the score up.
If you're score is around 1200, that's a decent/good score and aligns with the average score for students accepted at the University of Connecticut, for example.
A score of 1300 to 1350 is a very good score that would achieve acceptance by many competitive private colleges.
A score of 1450-1470 is the 99thpercentile and would position a student to be accepted to an Ivy League school.
For the ACT:
A score of 21 is basically average, equating to 1000 on the SAT.
A score of 25 or 26 is in the same zone as 1200 on the SAT.
A score of  29 to 30 is equivalent to the highwater mark of 1300 to 1350 on the SAT.
A score of 32 to 34 is basically perfect and like a 1450-1470 on the SAT.
The context around those scores is important to understand.
Focusing strictly on the numbers is the wrong approach. On the SAT, for example, fixating on achieving a 1500 can represent a misaligned goal.
Instead, students should aim to achieve a score in the percentile that represents the admitted range for preferred schools. That range, and the average SAT and ACT scores of admitted students are available information. For example the average SAT score of students accepted by Tufts University, one of the most competitive private schools, is 1445.
Knowing that, a student favoring Tufts who wants a 1500 but has scored 1450 can put aside SAT improvement efforts and focus on working with Bulldog Tutors' Director of Admissions Consulting Jessica Magro to optimize all other aspects of their student profile. SAT and ACT scores are only one aspect of a total package needed to be accepted by top tier schools.
SAT vs. ACT: Will I Be 'Blinded by Science' Questions?
The ACT has a science section and the SAT doesn't, instead weaving questions concerning science throughout the test and asking about things like tables and graphs in the reading, math and English sections.
In both cases, the tests are gauging scientific reasoning and general reasoning as opposed to students' knowledge of specific scientific facts or information.
Correctly answering the SAT's science-related questions involves focusing on how much you can understand from the material presented and not attempting to extrapolate beyond what's explicitly stated.
Essentially, students are asked to better understand what you can and cannot conclude from data, which makes the SAT's science questions more straightforward than the questions in the ACT science section.
On both the SAT and ACT, you need to be able to be efficient in finding information.
The ACT science questions expect students to understand independent variables, dependent variables, controls, how experiments are set up, and the things you can and cannot conclude from scientific data, for example. Those factors are woven into three principle types of science passages: tables and graphs; rival hypotheses, and methods and setups for a particular experiment.
SAT vs. ACT: Which One Has Easier Math?
The ACT's math section covers material up to precalculus and has a fair amount of trigonometry, while the SAT covers material up to Algebra II and contains only a little trigonometry.
Generally speaking, if you've reached precalculus, you should probably take the ACT, whose math questions are thought to be easier than the SAT math questions, largely because they're more straightforward.
On the SAT, while the math concepts are not difficult, essentially asking test-takers to perform critical reasoning, they can trip up students who find it difficult to discern the specific answer being sought amid all the extra words in questions.
While the information above might indicate why many students believe they will do better on the SAT if they have not been a particularly good math student in school, the reality is that a student who hasn't excelled in math would probably have a harder time on the SAT.
Another key difference: Calculators are allowed for the ACT but only for part of the math section on the SAT.
Reading, Writing and English
The ACT has a reading test and an English test, while the SAT has a reading test and a writing and language test.
As previously outlined, the SAT weaves science-related questions into the reading and writing sections and the ACT has a separate science section.
The reading section of each test is one area where there's a fundamental difference—time allotted and, by extension, the potential pressure created.
The SAT reading test allows students 13 minutes to read, analyze and answer questions about five passages, while the ACT allows 8.5 minutes for analyzing each of its four passages and answering questions.
The SAT may ask about the main purpose of the author's opening sentence, which often results in test-takers reading too far into things or taking wrong turns in reasoning. Meanwhile, the ACT might simply ask, "What's the main idea of the passage?"
Time and number of questions is the main difference on the English section. You have to get through 75 questions in 45 minutes on the ACT, so time is an issue. On the SAT you have 35 minutes to get through 44 questions.
The ACT has two different question types: What would this passage lose or gain by deleting passages? Which passage is appropriate to add?
The SAT might ask something like "Which one of these is not acceptable?" Students, especially when rushing, get tripped by the juxtaposition of "not" and "acceptable." It's another indication the SAT is testing your ability to understand a question and approach it with critical thinking.
SAT vs. ACT: The Dreaded Essay
The bottom line: There's actually less cause for fear or dread than ever before.
Essay components on both tests are optional and many colleges and universities, including top schools such as Yale, increasingly aren't considering admissions test essays.
Students should research schools on their college lists to see which are essay optional. Essay prep is then only necessary if preferred schools still weight the essays in their admissions formulas.
Finally, Spread Out Your Test Prep:
Students need to score not only in the proper percentile for the schools of their choice but also must have a balanced score on either the ACT or SAT, achieving scores that show proficiency on all sections. That requires a test prep process that allows sufficient time and duration to be effective.
************
With offices in New Haven and Guilford, Bulldog Tutors provides the highest quality private tutoring, test prep, and college admissions counseling in Connecticut. Bulldog's Ivy League-educated tutors have achieved top scores on every exam that they teach and take a personalized approach to instruction that targets students' weaknesses and helps them succeed on admissions tests and in subjects where they may have been under-served by traditional educational settings.
The New Haven office is located at 142 Temple Street, 3rd Floor, and the Guilford office, which may be reached at (203) 423-0592, is located at 2257 Boston Post Road, Suite B.
For additional information, call the New Haven office at (203) 562-1000, or see the Bulldog Tutor website, https://test.bdt.rscdev.net.