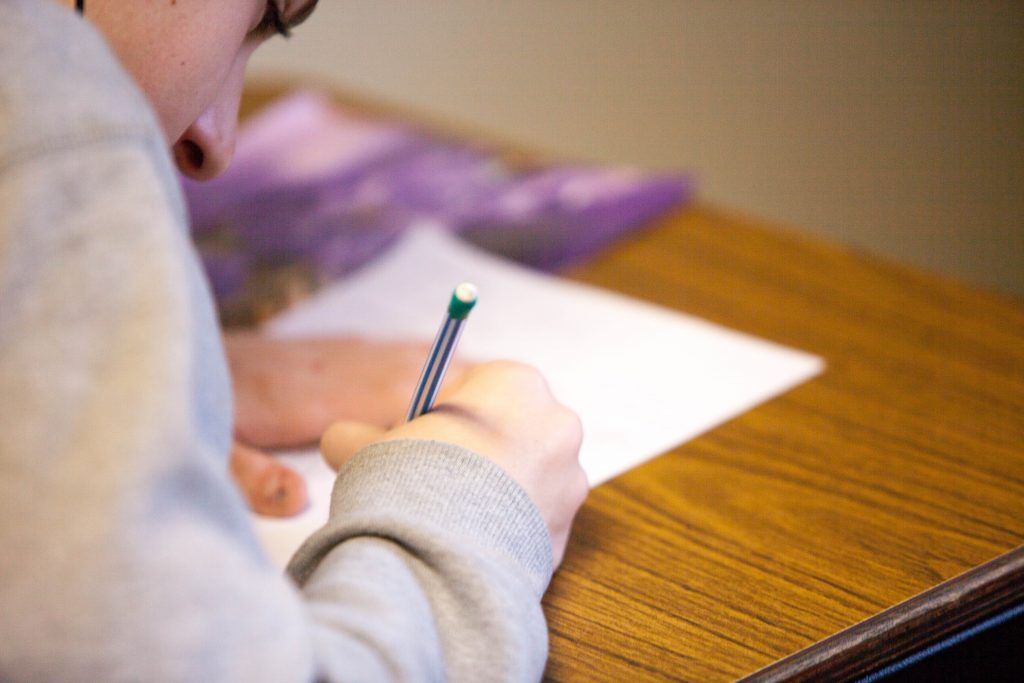 Ever wonder what the Bulldog Tutors process looks like? We were featured in the Winter 2018 edition of Seasons Magazine of New Haven; come take an in-depth look at our high standards, goal-setting, and commitment to your success!
Making the Grade
Tutoring company boosts confidence along with test scores. 
by Cara Rosner  /  photography by Tony Bacewicz 
Like many graduate students, Michael Newcomer sought to supplement his income while he worked toward a PhD. But, unlike most, his decision to do so changed the trajectory of his career path and put him at the helm of a unique, socially conscious and growing company.
"Grad students aren't paid a tremendous amount, so I ended up doing some tutoring for a bunch of different companies," recalls Newcomer, who obtained a doctoral degree in biophysics from Yale University in 2010. "[The companies] always really struggled to hire tutors. Whenever I would apply, I would instantly get a call."
That got him thinking, and a couple years later in 2012, Newcomer started Bulldog Tutors. Like other similar companies, it offers help preparing for a long list of tests that can cause angst among students and their parents alike: the PSAT, SAT, ACT, LSAT, GMAT, MCAT and AP exams, among others.
But the company, which is headquartered in New Haven with offices there and Guilford, has a unique hook – all of its tutors are Ivy League graduates or students, and all have scored in the top 1 percent nationally on the tests they teach. They tutor across all academic subjects and for students of all ages.
Newcomer, who is founder and president, says he launched the company in New Haven because there are so many qualified tutors here, but his sights are set on expansion.
In the short term, Bulldog Tutors aims to open an office in Fairfield and possibly one in Hartford. Beyond that, Newcomer is eyeing additional cities outside of Connecticut in places like Philadelphia and Charlotte, N.C.
"There could be lots of other places we could go," says Newcomer, who is 35. "We have a unique product."
In the company's early days, he was the sole tutor. Once he saw the demand, he knew the company was ripe for expansion. Today, the company employs three or four full-time tutors at any given time and between 20-30 part-time tutors, according to Newcomer, and provides services to about 500 students annually.
He leads the company with Chief Sales Officer Jas Jernaill, who has a degree in behavioral cognitive science from Yale and oversees the company's day-to-day operations and growth initiatives.
Clients have been drawn to the company's highly qualified tutors and growing track record, Newcomer says.
"We certainly improve people's test scores; there's a formula for doing that," he says, and the relatively young age of the tutors helps them connect with students. "One thing parents have really liked is this sort of mentorship that's come out of it."
A Personalized Approach
Lisa Koste has seen the impact that mentorship has had on her 16-year-old son, William. Koste and her family live in North Carolina but have been in Connecticut the past few summers for work obligations, and Lisa Koste discovered Bulldog Tutors in the summer of 2017, soon after William had taken the PSAT back home and "not scored where he felt he was happy," she recalls.
"I met with Jas [Jernaill] and told him a lot about William and his personality and so forth, and he got him," she says. "He understood him, and I loved that. He pegged him the way I would peg him."
A tutor worked with William to increase his PSAT score, three days a week for the eight weeks the family was in Connecticut. And the tutor continued to speak and work with William once he returned to North Carolina.
"She wound up being a mentor to him," Koste says. The tutor took a vested interest in William's success, even bringing in her own notes from law school classes so William could see how she took and organized notes. "He's looking up to her and he's saying, 'This is what success looks like; I need to model this.'"
She credits Bulldog Tutors with boosting her son's confidence as well as his practice test results. Among the most valuable insights Jernaill shared with her, Koste recalls, is suggesting William might score better on the ACT than the SAT. William took the pre-ACT in September.
"They certainly have moved his score [on practice tests]. And regardless of what he gets, at the end of the day, his confidence level is so much better," she says. "They are very teachable tests; this child is proof of that. It's money well spent, even though it's not inexpensive."
Newcomer declined to specify how much Bulldog Tutor services cost, saying: "Package prices are highly variable and depend on a lot of different factors."'
Investing in the Future
In addition to its for-profit tutoring services, Bulldog Tutors works with local public schools and nonprofits. Typically in those partnerships, Newcomer says, services are offered at discounted rates and the company doesn't make any money off them – it's just the right thing to do.
"I grew up in a relatively poor area of the country. A lot of the students [in New Haven] – at least socioeconomically – look a lot like me and my friends growing up," says Newcomer, a Kentucky native. "Those students wouldn't necessarily have access to tutoring like this without our company. There's a pretty marked impact."
Bulldog's job in those partnerships, he adds, is bridging a gap.
"There are all these great tutors, but they don't know how [to reach students in need]," Newcomer says. "On the other side, there are all these students who need this, but they don't know how [to find it]. It seems silly for us not to match those two markets up, given the position we're in."
The benefit to students is significant, says Elvert Eden, director of youth development and aquatics at LEAP. The New Haven nonprofit provides afterschool and summer programs for local children and teens, most of whom are at-risk and low-income.
For two years, Bulldog Tutors has been offering PSAT and SAT prep classes to LEAP participants, and this past spring, the company launched a six-part series of creative writing workshops for 13- to 15-year-old students. Those who have completed the test prep courses, in particular, say they feel less nervous heading into standardized tests, Eden says.
"Parents love that it's integrated into our program," he adds. The teens are improving their test scores, he says, "but the bigger thing is they seem more confident."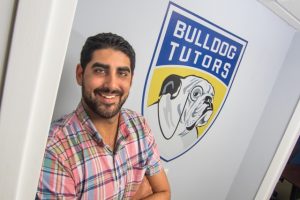 If not for the partnership with Bulldog Tutors, LEAP families could not afford similar tutoring services, Eden says.
Over the past two years, 50 students have participated in PSAT courses, 50 participated in SAT courses, and 20 took part in creative writing workshops.
"I thoroughly enjoy the instructors' enthusiasm for teaching. They are very professional. They have very good teaching skills, which allow the kids to retain the material," he says. "They have a very diverse staff, with different cultures, different backgrounds. It's great for students to see people who look like them and [who are] also young enough that they feel comfortable asking questions."
Eden says he was drawn to Bulldog Tutors largely because it's a local company.
"We can really connect with them," he says. "They're right around the corner and always available. They always accommodate our schedule and our requests. They've shown over the last couple of years that they're committed to students' success in and around New Haven."
Standardized tests, and the pressure to perform well on them, can cause fear and stress in all students who have to take them, regardless of their background or circumstance, Newcomer notes.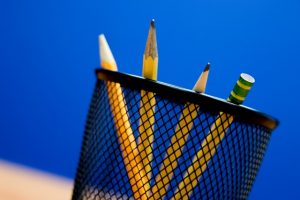 "It's a high-pressure time and high-anxiety time, and the pressure is on both the parents and the kids, to be honest," Newcomer says. That's part of why loves his job and his company.
"Tutoring allows you to have a real impact on people's lives. I think we've had a real impact on customers," he says. "That's really rewarding in a lot of ways."
Link to the original arcticle can be found here: https://www.seasonsmagazines.com/2018/11/10/making-the-grade/?fbclid=IwAR1gjB_qs_BNoYec85_jgC6g9FJd5FVNO0pDAARs3t8MRfqPbSLybgyHk0U