Taking the SSAT and preparing for the private and independent high school admissions process are front-of-mind for seventh-grade students and their families, as well as older students looking to transition to a prep school.
However, the COVID-19 coronavirus pandemic has added uncertainty and challenges for those hoping to attend top private high schools in Connecticut or elsewhere.
One challenge is the diminishment of educational rigor resulting from distance learning systems adopted by school districts as schools were closed.
When Connecticut Gov. Ned Lamont announced in early May that in-person classes would remain canceled for the rest of the 2019-2020 academic year, Education Commissioner Miguel Cardona acknowledged that "technology and remote learning will never replace the experience of our students in their school community."
This means students will head into the key SSAT and secondary school admissions prep period with a fractional level of achievement, command of core subjects, study habits, time management skills, and more. The diminished status widens the readiness gap.
It also underscores the need for additional and more rigorous prep than normal for the SSAT, which Avon Old Farms Director of Financial Aid Oliver Rothmann called "the first element of your admissions file" in a blog post.
Changes to how the SSAT is administered add another layer of potential complexity. An April Facebook post from the Enrollment Management Association (EMA) announced "The SSAT at Home is coming!"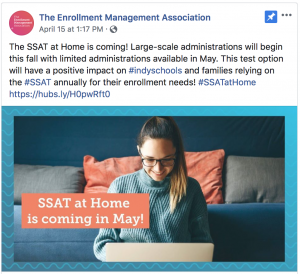 Limited administrations of the SSAT at Home are expected to be available in May, and widespread home testing will begin in the fall. "The SSAT at Home will have the same content, length, and quality of the traditional SSAT," EMA Executive Director & Chief Executive Officer Heather Hoerle explained in a website post.
Hoerle urged EMA member schools "to communicate to families that they can rest easier knowing their educational ambitions for their children won't be undone, and that this new mode of testing will help both admission officers and EMA manage health and safety concerns of prospective students in the face of this worldwide battle against COVID-19."
The test may be the same, but taking the SSAT at home rather than in a controlled setting presents new and different challenges. In a group test environment, for example, there are visual and other cues that help guide time management.
Being fully prepared to excel is the bigger issue. The SSAT remains the same, but students' level of academic achievement and mastery of material have inevitably been diminished by the less intense, less effective nature of distance learning—no matter how well schools and educators adapted to the coronavirus challenges.
As a result, students will be less prepared than normal to take the SSAT on its normal fall schedule—and that mandates the need for additional and more sustained expert test prep services like those provided by Bulldog Tutors.
The coronavirus and distance learning have also created larger and broader challenges for middle school students exploring plans to attend a private, independent, or parochial high school.
With private schools only able to hold spring open house and admissions events virtually, how are students and families getting a sense of schools' attributes and differences and building a list or preferred schools? It's likely private schools also will be limited in holding fall events or scheduling visits that allow families and students a chance to truly get to know a school.
"The best way to truly get to know Taft is to visit campus while school is in session," Taft School says online. "A campus visit gives you the chance to get to know us a bit better, and for us to get to know you, too."
What happens if the interview process goes virtual? The basics of an interview may be the same in person or online—but that's not necessarily true for the type and quality of the interaction. Interviews depend on a series of cues and nuances that might be lost in translation if students aren't prepped to be eloquent and engaged on a Zoom or FaceTime call.
What about students who had hoped to excel on their admissions essay by correlating their achievements and aspirations with specific aspects of a preferred school in a way that distinguishes them by demonstrating knowledge of the school and heightened engagement? They need tools and strategies to accomplish that result without the benefit of a first-hand experience.
Bulldog Tutors' Ivy League educated tutors and admissions specialists are positioned to expertly help middle school students and families prep for the SSAT and navigate the secondary school admissions process in an optimal way, including the Standard Application Online (SAO) process in which a single application is created for applying to multiple schools.
Email [email protected] or use the chat feature on our website, bulldogtutors.com, to discuss your needs and chart a course for successful private school admissions in the current environment.
Our tutors and admissions specialists offer a personalized and professional experience by working with students and families via Zoom and other digital tools.